Is this what they mean when they say half bath?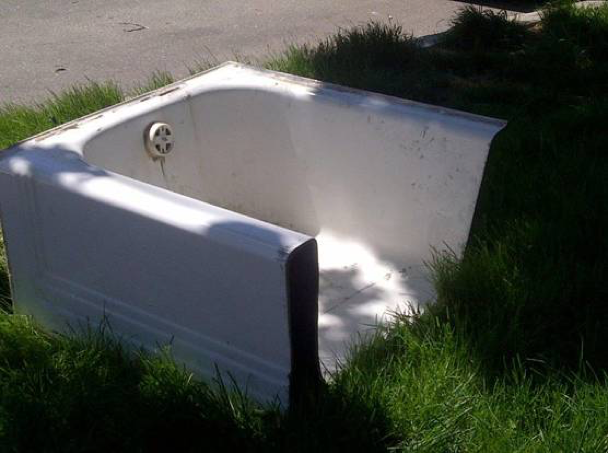 Hopefully not! :)
This cute photo was taken and shared by a long time client, friend, and amazing travel agent, Derrick Bloch. It gave me the thought to share some of those, sometimes odd, abbreviations that confuse folks when they see listings for the first time.

Virtually all listings have some form of abbreviation and if you are not familiar with them they can be misleading and/or make little sense. So, here is a starter list to help you decipher the real estate code.

Let start with Bathrooms.

A half bath, unlike the picture above, typically means a toilet and a sink. Also known as a powder room or a 2 piece washroom. When referring to the piece it simply means where water comes out. Therefore, a 4 piece unusually means a tub with a showerhead, a toilet, and a sink. If it were a 3 piece, that could mean shower, toilet, and sink OR just the bath, no shower head, with toilet, and a sink. And so on.


Abbrev.
Meaning
MBR
Master Bedroom
ELF
EGDO
REM
HVAC
HWT
HDWD
GB&E
OB&E
GFI
TLC
AC
Electric Light Fixture
Electric Garage Door Opener
Remote Control
Heating Ventilation & Air Conditioning
Hot Water Tank
Hardwood
Gas Burner and Equipment (Furnace)
Oil Burner and Equipment
Ground Fault Interrupt (Special electric outlet for use near water)
Tender Loving Care (Usually means that is a fixer-upper)
Air Conditioning
CAC
Central Air Conditioning
GTA
BDLM
Greater Toronto Area
Broadloom or Carper
W/L
Where Laid (Referring to broadloom or carpeting)
B/I
Built-In
S/S
Stainless Steel
H/E
High Efficiency
W/O
Walk Out
D/W
Dish Washer
W/
With
WC
Water Closter (Toilet or 2 piece bathroom)
PL
Pot Lights
W/D
Washer Dryer
I/G
In-Ground (Could be for sprinklers or pools)
POA
Power of Attorney












I am available to assist you with your new home plans as well as any decoding that may be required. All you have to do is call and start the conversation.

I look forward to helping many more families move into their new homes and saving more money. To meet for a coffee to chat about your wishes and dreams, just, follow this.